Introduction
The Patent is handled by the Patents Act of 1970. In order to get a Patent in India, a number of steps in the whole Patent registration procedure must be completed. Here we will discuss the definition and procedure for Patent Registration.
What is a Patent?
According to the Patents Act of 1970, an inventor in India who applies for a Patent is shielded from any Patent infringement. A Patent is a privilege that the government grants to a person or business about their original innovation. Additionally, it provides the creator of a certain item the sole authority to produce, utilize, and market its invention for a predetermined amount of time.

Patent Registration Made Easy! Partner with Our Legal Advisors for Comprehensive Guidance and Protect Your Intellectual Property.
What is Patent registration in India?
The Patentee obtains complete ownership of the Patented product or manufacturing method through Patent registration, including full rights to regulate its manufacture, use, sale, and import. The Patent registration procedure grants a person or business intellectual property rights over an innovation. It grants you the only authority to develop, employ, market, or import the good or services and forbids others from doing the same.
Additionally, it guarantees that the owner will be given preference over others for their particular innovation. Not all ideas are eligible for Patenting, and Patents only last for 20 years. A provisional Patent application may be submitted if the concept has the potential to develop into an invention.
Why is Patent Registration important in India?
A Patent is a form of intellectual property that protects your invention by forbidding unauthorized use of it. You have complete ownership of the rights, which discourages rivals.
20-year Patent exclusivity
For a predetermined period of 20 years, your innovation is shielded against infringement.
Enabling the Patent holder to charge more for the innovation also increases the revenue for your business.
Transferring or selling Patent rights
After your Patent has been registered, you are free to sell, give away, or franchise it.
Once the Patent is registered, the inventor's credibility will rise.
Even if it only offers a reduced royalty rate, it is nevertheless quite helpful for those who have an innovative concept.

Different types of Patent
All decorative designs of a practical object are covered under design Patents. Examples of things that can be given a design Patent include spoon shapes and printer designs.
The Patent awarded on plants is covered under the Plant Patent. When new plants are created by asexual methods like cutting, vegetative propagation, and other similar procedures, a plant Patent is given. However, India does not issue plant Patents.
All novel innovations, substantial modifications, and improved processes or products with some utility are covered under Patents. By prohibiting any third party from using, selling, or producing the invention in issue without formal authority, the Patent safeguards the inventor's ownership rights over his idea.

Maximize Your Invention's Value with Our Top-notch Legal Advice & Professional Assistance for Patent Registration and Secure Your Future.
Place of Patent Registration
Patent applications should be submitted to the relevant Patent Office. A Patent office's territorial jurisdiction is determined using the following criteria:
Location of the applicant's place of residence, domicile, or business (first mentioned applicant in the case of joint applicants).
A location where the innovation first appeared.
When the applicant does not have a place of business or residence in India, the applicant provides an address for service in India (Foreign applicants).
The Indian Patent Office operates out of Kolkata, Delhi, Chennai, and Mumbai to make it easier to register Patents.

Procedure for Patent Registration in India
Doing a search to see whether the innovation is Patentable
One should do a thorough Patentability investigation to ascertain whether or not a Patent for it would be available before submitting a Patent application in India. To check for Patentability, click the following link: http://ipindiaservices.gov.in/publicsearch. It should be emphasized that this step is not required in and of itself.
Patent Application Drafting
The next step is to construct an application form in form 1 once the search is finished.
A Patent specification must be submitted with every application. Form 2 must be completed, and depending on the invention's stage, either a complete or tentative specification must be provided. If a provisional application is submitted, a 12-month window is given to finish the invention and submit a full application. The Patent draught is regarded as a crucial document since the Patent office will use it to determine whether or not to award a Patent.
Indian Patent application filing
Stages-
1. Form 1: Request for Grant of Patent
2. Complete/provisional specification-Form 2
3. Statement and undertaking under Section 8 (only necessary when a Patent application has previously been submitted in a nation other than India) – Form 3
4. Inventorship Declaration – Form 5
5. Only small businesses and startups should submit forms such as Form 28.
Patent application publication
The official Patent journal will publish all Patent applications submitted to the Indian Patent Office. Typically, this is carried out 18 months after the application is submitted. A request for early publication can be made in form 9 if someone wants to have it published sooner. If the Indian Patent Act places a restriction on publishing a Patent, the Patent will not be published in the journal.
Patent application examination
Before a Patent is officially issued, every application for protection that has been submitted will be reviewed. Application for the exam must be sent in Form 18. The sooner a request is submitted, the sooner the application will be reviewed by the examiner. After the application is submitted, it is given to the Patent officer, who will review it to make sure it complies with the laws and regulations governing Patents. The officer conducts a comprehensive investigation, thoroughly analyzing the pertinent technologies, and communicating any complaints. The First Examination Report is the name of the document that was issued in this case.
Once the officer's concerns have all been addressed, the Patent is issued.

Get Patent Registration Done Right and Safeguard Your Invention Today!
Cost of Patent registration in India
Fees that Must Be Paid for Different Heads of Patent Registration
Electronic Filing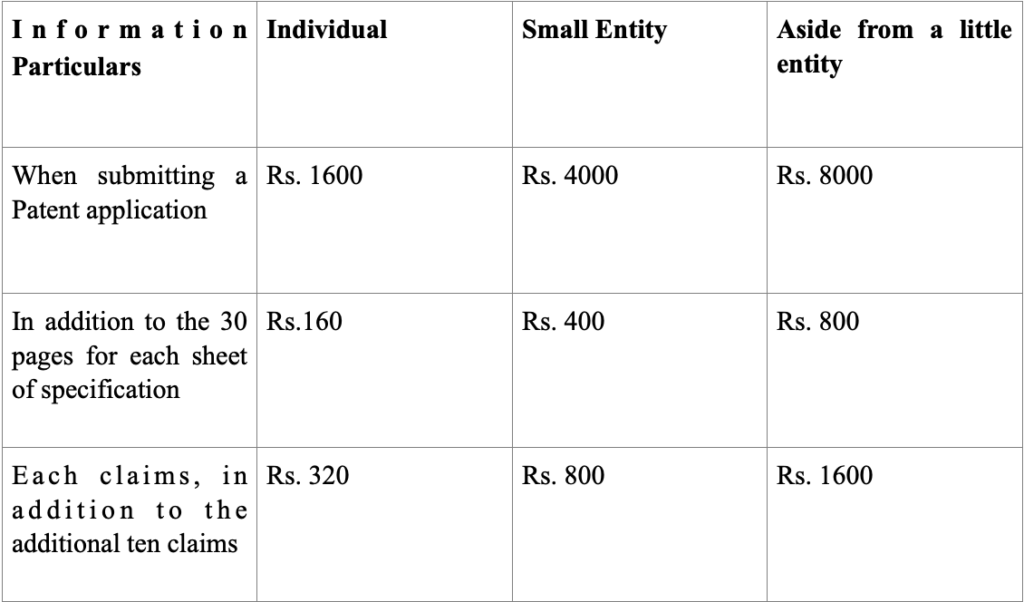 2.Actual or Physical filing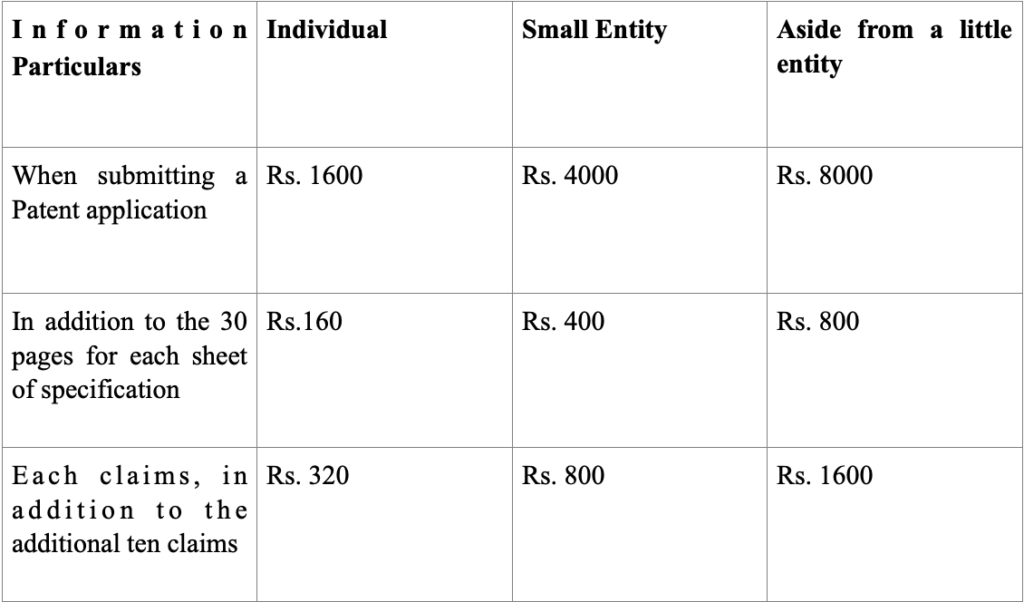 Conclusion
It is crucial to realize that registering a Patent in India is a difficult operation that requires meticulous attention to detail and strict adherence to deadlines. Every step must be properly followed, and that is also crucial. To know more about Patent registration in India, get mou Lawyer here.